Jaime Buffalari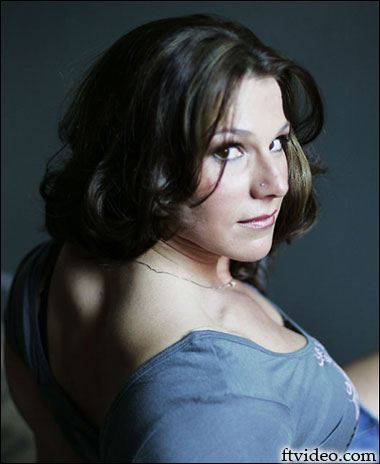 July 2007 - By Hans Klein
Jaime Buffalari's bodybuilding career began in an unlikely place: Iraq.
National-level heavyweight Jaime spent most of 2003 in Iraq as a US Marine assigned to the 3rd Civil Affairs Group. Based at Camp Commando, a Marine base in the Kuwaiti desert, her unit provided humanitarian assistance to the Iraqis while under constant threat from mortar attacks and roadside bombs.
It was while Jaime was there that she met a coach for the Marine bodybuilding team, who saw her potential. She started training with him at the gym at Camp Doha, the main US army base in Kuwait, and her body quickly responded. After her unit finished its tour in Iraq and she returned to Camp Pendleton in California, she was picked to join the bodybuilding team full-time. For the next 12 months, Jaime was basically paid to be a competitive bodybuilder. "My job in the Marine Corps was just to eat, sleep and lift, and get ready for shows and stuff," she says. "It was not a bad deal!"
Now out of the Marines, 28 year-old Jaime has a big future ahead of her in bodybuilding. After competing at the Junior USA in April, she now has her sights set on Nationals in Dallas in November. At 5-foot-5 and around 145 pounds in contest shape, she undoubtedly has the size to hang with the best national-level heavyweights but in her last few shows she hasn't come in as lean and hard as she would like. For Nationals, however, she'll have a new trainer: Lisa Bickels, another former Marine who she knows from Camp Pendleton and who won the middleweights at Nationals last year. "I'm very excited about working with her," Jaime says.
Jaime Nicole Buffalari was born in Pennsylvania but grew up mainly in Indiana, where her family moved when she was in second grade. She was a typical athletic girl, who played soccer, volleyball and softball in high school and had what she describes as "stocky, jock-type" body. In the tenth grade, she even tried out for the football team – the first girl in her school to ever do so. She kept up with the boys all through summer practice, but drew the line when the coach told her she had to cut her hair short. "I didn't want to do that!" she says.
Jaime joined the Marines in 1997 right after she left high school and breezed through the basic training at Parris Island, S.C. – the same the same grueling 13-week boot camp that male Marines do. "The physical part was too easy," she says. After that she was posted to
Camp Pendleton
in California, where she spent four years in communications, working with high-tech cryptographic gear used to encode messages.
Jaime, nicknamed "Buff" for obvious reasons, instantly felt at home in the Marines. She left in 2001 but signed up for another four years shortly after 9/11 and was assigned to the 3rd CAG, which was sent to Iraq in the run-up to the US invasion. Her husband, Eric Kocher, a sergeant in the 1st Marine Reconnaissance Battalion who had met in the gym at Camp Pendleton, was also sent to Iraq in 2003. His elite unit spearheaded the invasion, operating behind enemy lines ahead of the main Marine battle group advancing on Baghdad.
Jaime already had a lean, athletic body, with muscular shoulders and arms.
But once she started lifting heavier and eating a bodybuilder's diet (she was even able to get supplements on base in Kuwait), she quickly put on a lot more size. In fact, when she and Eric saw each other at a base in Iraq in mid-2003 for the first time in months, she was actually a lot bigger than he was. "Everyone was giving him a bunch of crap because he was so much smaller than I was!" she laughs.
In September 2003 the 3rd CAG returned to Camp Pendleton (Eric, who had been wounded, had returned a month earlier), where Jaime joined the bodybuilding team. She was the only female bodybuilder on the team, which trained together three times a day and pushed her to lift heavier and train more intensely than she had ever done before. "If you said you couldn't do it, they'd be like, 'Whatever,' and put more weight on and you'd press out like 5 or 6 more reps," she says. Pretty soon she was squatting 405 and bench pressing 205.
Jaime was inspired to get onstage after attending a bodybuilding show in California that one of her coaches was competing in. "It was completely awesome," she says. "I thought, 'This is what I want to do!'" With just 15 days to prep, she did the Orange County Classic in April 2004 - a day before her 25th birthday – and won the novice overall, weighing 135. "It was a great feeling," she says. She ended up doing another three shows that year.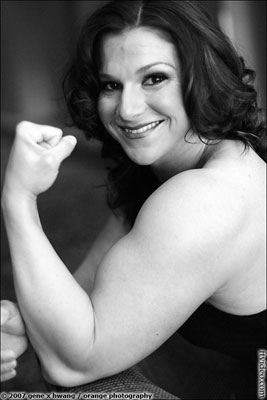 "I had the fever!" she says.
Jaime finally quit the Marines after eight years in January 2005. After Eric was transferred to
Camp Lejeune
, they moved to Jacksonville, N.C., where Jaime started working as a personal trainer.
Last year, Jaime starting competing in shows on the east coast, placing second in the heavyweights at the Gold's Classic in Wilmington, N.C., before going on to the Eastern Seaboard, a national qualifier, where she won the heavyweight and overall, weighing in at 147 pounds.
Jaime and Eric plan to move back to California some time this year. After being deployed to Iraq 4 times and being wounded twice, Eric has now also quit the Marine Corps. HBO is now making a mini series based on First Recon's exploits in Iraq, based on Generation Kill, a book by Evan Wright, a writer for Rolling Stone magazine who was embedded with the unit. The mini series will be shot in South Africa this summer and Eric will be spending six months there as a military advisor.
Jaime, meanwhile, will be planning her assault on Nationals. After originally planning to compete at the amateur show at the Arnold Weekend, Jaime decided instead to do the Junior USA in April – her national-level debut. She ended up coming in at 152 and placed fourth in the heavyweights - "very frustrating, but a learning experience." With that experience under her belt – and Lisa Bickels's help – Jaime is hoping to come in in much better shape in Dallas in November. If she does, she could easily be pushing for a top five placing.